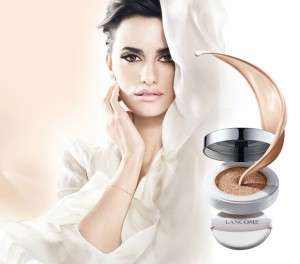 Co zamaskuje twoje przebarwienia, wyrówna koloryt skóry i uczyni cię piękniejszą? Podkład, puder w kompakcie? O twoją cerę zadba fluid Miracle Cushion od Lancome.
Fluid Miracle Cushion nie jest tradycyjnym kosmetykiem zamkniętym w szklanej buteleczce z pompką. Ma zupełnie inny i zaskakujący wygląd. Miracle Cushion to fluid w postaci miękkiej gąbeczki. Pytacie, jak to możliwe? W małym, okrągłym i bardzo stylowym pudełeczku umieszczone są: lusterko, aplikator i próżniowe opakowanie, w którym znajduje się gąbka nasączona fluidem. W środku pudełeczka zachodzi cały czas wymiana powietrza, dzięki czemu kosmetyk nigdy nie wysycha, może nam służyć bardzo długo i zawsze ma delikatną i płynną konsystencję. Z tego względu fluid Lancome nie jest przeznaczony do mocnego krycia; zrobimy nim lekki i naturalny makijaż.
Miracle Cushion posiada wiele innych właściwości. W jego składzie znajdują się olejki nawilżające, gliceryna i oleje estrowe. Jest również ekstrakt z igieł pinii. Jest to naturalny przeciwutleniacz. Posiada właściwości przeciwbakteryjne, regenerujące i rozjaśniające.
Fluid zawiera również filtry SPF 23/PA, które chronią naszą skórę przed promieniami słonecznymi.
Wystarczy niewielka ilość kosmetyku, by wygładzić skórę i ujednolicić kolor twarzy. Fluid możesz nakładać za pomocą gąbeczki dołączonej do produktu, dużym i płaskim pędzlem (choć aplikacja może być utrudniona ze względu na wielkość opakowania kosmetyku) lub palcem, wklepując go w skórę twarzy. Miracle Cushion rozjaśnia odcień skóry o dwa stopnie. Trzeba zatem dobrać właściwy kolor fluidu. Dostępnych jest sześć odcieni: Pure Porcelaine oraz pięć wersji beżowego koloru (Beige Rose, Peche, Miel, Ambre i Mocha). Kosmetyk polecany jest osobom, które mają cerę normalną, suchą lub wrażliwą. Skórę tłustą lub mieszaną może obciążać i natłuszczać.